ProTech Computing works on a first come, first serve basis. There is no need for an appointment, just Bring It In! We do not require maintenance contracts to perform services for our clients. Our contract is simple, if you like our services, call us when you need us. Our clients range from single users to small businesses with multiple devices and users.

ProTech offers a free In House Diagnostic on all brands of computers.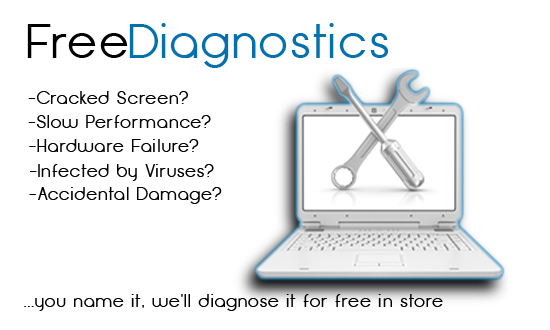 FREE In House Computer Diagnostic
If you bring the system in, we will look at it, determine the problem and what it will take to fix it… how long and how much. You can then decide how you'd like us to proceed. Regardless of your decision, the diagnostic is always FREE.
---
Our service room is designed to support repair on several machines per technician at any given time. Our 6 Point System Health Check and Clean is very extensive and will fix most all issues except hardware problems or Windows corruption. The 6 Points include a physical check, hard drive test, Windows check, Program/Malware & virus check and removal, Program and windows updates, and system optimization.
---
Additional In House Services
Startup Problems
New PC Setup
Data Transfers
Parts Replacements
Laptop Screen Replacements
Software Installs
Data Recovery
System Restore
System Recovery
With this hands on approach, diagnostics are often quicker and more accurate than trying to diagnose via phone or email.
Sometimes you just can't shut everything down and take your computer to the store. If this happens, ProTech can come to you!

In the business world, time is money, and ProTech understands this. If your computer, printer or network isn't running, ProTech will get to you as soon as possible. You have enough jobs to do in your business, let the pros handle the IT department.
---
On Site Services
Quickbooks Server and Client Setup
Routers and Switches
Wireless Setup and Security
Printer Setup
Drive Mappings
Internet and Network Connection Problems
We Accept Managed Service Provider Dispatches
System Restore
System Recovery
Computer Repair and Network Solutions are just a click away.
Contact Us
We Have Solutions
If it is important back it up! But where and how you back up your files is just as important. ProTech Computing promotes
Nordic Backup
as an affordable, secure cloud backup solution. We use this for our files and have many clients that do as well. It is easy to configure a scheduled backup, and more importantly easy to restore files.